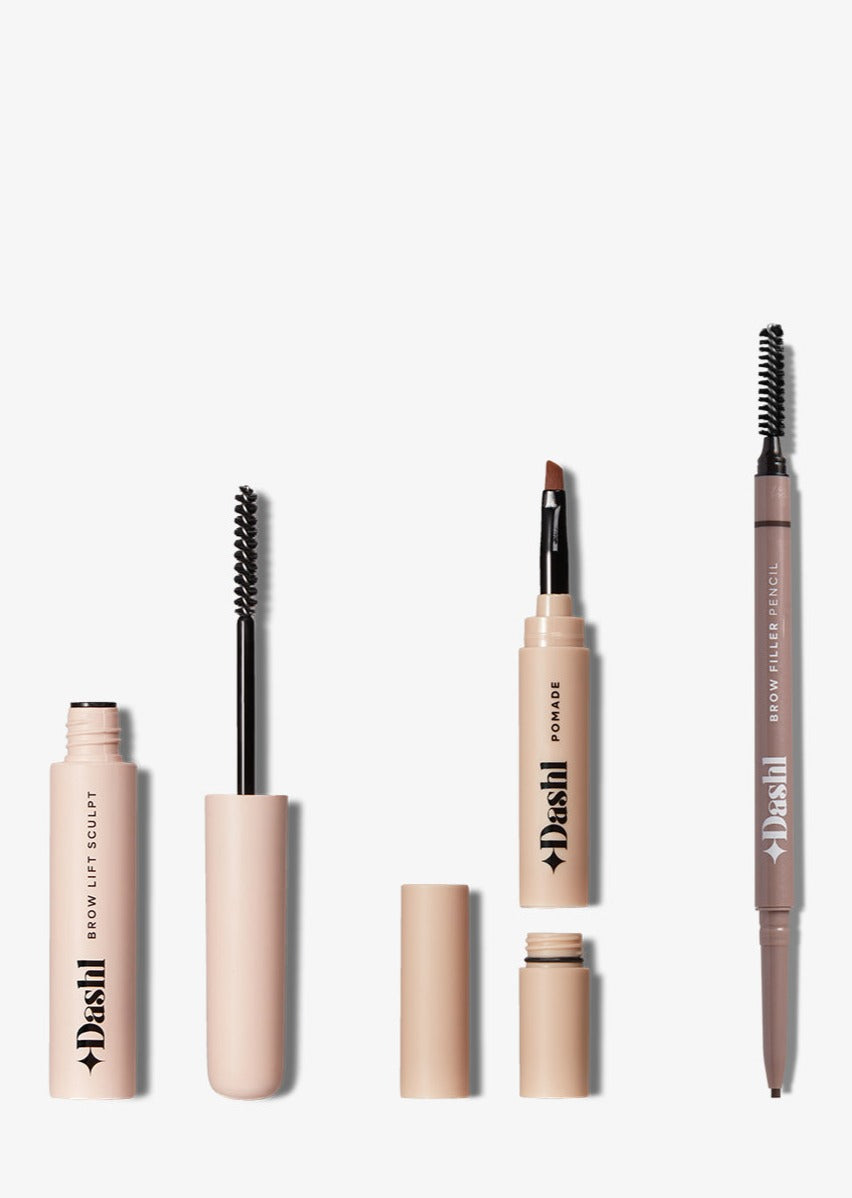 Brow Trio Kit
Whats included:
Brow Lift Sculpt: When you want to recreate the Brow Lift look on the go.
Brow Filler Pencil: has a super-precise tip that lets you add hair-like strokes to fill in and accentuate your eyebrows.
Brow Boss Pomade: This brow pomade comes smartly packed with a built-in brush.
Pickup available at Beauty Bar by Dashl Düsseldorf
Usually ready in 2 hours
Beauty Bar by Dashl Düsseldorf
Pickup available, usually ready in 2 hours
Schadowstraße
50
40212 Düsseldorf
Germany
+498006655900
Beauty Bar by Dashl Arkaden
Pickup available, usually ready in 24 hours
Drottninggatan 38
411 07 Göteborg
Sweden
+46708792094
Beauty Bar by Dashl Hamburg (H&M Spitalerstraße)
Pickup available, usually ready in 2 hours
Spitalerstraße 12
Inside H&M
20095 Hamburg
Germany
+4917697729497
Beauty Bar by Dashl Regent Street
Pickup available, usually ready in 24 hours
234 Regent Street
London W1B 3BR
United Kingdom
+447307315349
Beauty Bar by Dashl (H&M Sergels Torg)
Pickup available, usually ready in 2 hours
Drottninggatan 50
Inside H&M
111 21 Stockholm
Sweden
+46708792094
Perfect brows are not self made, they're made with Dashl.
Slay your daily routine like a boss with our Brow-trio of a sculpting wax, pomade and pen. For naturally flawless frames. Fast, easy, everywhere.
No bag, no worry. You can put these in your pocket and say bye to any mess, because the trio comes in travel-easy, double-ended packages with built-in applicators.
In a hurry? These are simple enough to apply with the help of your mobile cam, in an elevator mirror, or in the reflection of your newly waxed Porsche (we wish!).
Best of all, the brow trio is 100% vegan and cruelty-free.
FREE SHIPPING on orders over 250 SEK / €25 / £25
Sweden - 39 kr 
Germany, France - €4
EU - €5
UK - 7 GBP
The Brow Trio is the perfect tool to give the impression of naturally fuller brows. Use the pencil to draw on hairlike strokes and the pomade to fill in any gaps for a fuller brow effect. You can also build strong and well-groomed eyebrows overtime by using our 100% vegan and plant based Brow & Lash Oil. The oil penetrates the root of the hairs making them  stronger whilst stimulating growth which also result in your eyebrows looking fuller.
If you want a natural look, select the colour that is the closest to your natural hair colour. We're always here to help and you can always send us a picture of your eyebrows to hello@dashl.se and we will help you find your shade!
Common mistakes to avoid:
1. Don't pluck your eyebrows when you are wearing makeup. This can cause dirt to get into the hair follicles.
2. Avoid overplucking. The growth cycle of the eyebrows are about 4-8 weeks and if you regularly pluck your eyebrows, this cycle is disturbed. Try to stick to every three weeks and then pluck only the hairs that really need to be removed.
By establishing a daily care routine with nourishing products that stimulate and strenghten your hair follicles, you will enable your brows & lashes to grow faster. To stimulate growth, you can use our lash and brow serum.
A professional brow lift gives the eyebrows an upwards lift and makes the eyebrows look denser and fuller. They are done in salons an beauty bars by accredited stylists. The strands remain in place and you can brush them in the direction you prefer. In a brow lift, a keratin treatment is performed where vitamins, minerals and proteins are added to the brow hair, which lifts the brows at the same time as they are nourished. In a browlift treatment, you can also color and shape the brows. A browlift results in up to 8 weeks depending on the individual growth phase of the straws.
For the first 24 hours after a brow lift, you should avoid eyebrows coming into contact with liquid and do not wash with face wash. This is to get the best end result and for the brow lift to last as long as possible.